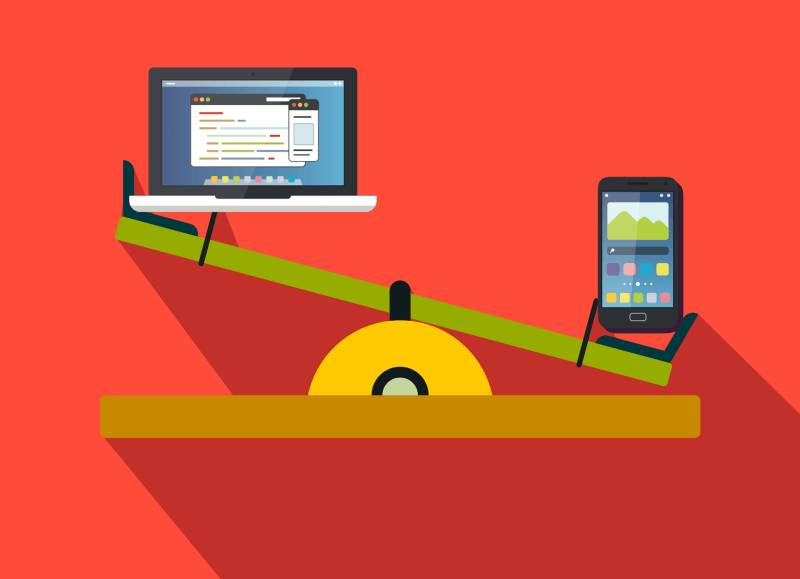 20 Oct
All digital growth now coming from mobile usage — comScore
A new report from comScore uses a vertiable mountain of data to expose and explain the multi-platform state of internet user behavior. However, it also makes clear that mobile is now the growth driver, while the desktop is rapidly becoming a "secondary touch point" for a large percentage of the US digital audience.
The report, entitled 2016 US Cross-Platform Future in Focus, covers a broad range of channels and consumer behaviors. I won't try to cover everything here, just some of the high-level usage data. The full report is free and can be downloaded after registration.
The data above show that mobile now represents 65 percent of all digital media time, with mobile apps dominating that usage. The desktop has lost 12 percentage points since 2013 and has receded to 35 percent of digital time spent.
That's not to say the desktop isn't important anymore; most e-commerce transactions are still taking place on the PC, and a multi-platform strategy is critical. However, many marketers and brands still treat the desktop as the primary area of focus, which is way out of alignment with consumer behavior.
In accordance with the above, as of December 2015, mobile audiences for the top 100 digital properties, in the aggregate, have surpassed the desktop audience. And while the total number of smartphone owners has not yet trumped the PC audience, that will likely come either late this year or in 2017.
The comScore December 2015 smartphone penetration figure is 79 percent, but among 18- to 34-year-olds, the number is about 93 percent.
One of the more interesting findings in the the report concerns the way that many traditional magazine and newspaper publishers have been able to tap mobile audiences for growth. Once given up for dead, many of these media properties are showing strong growth on the basis of mobile usage. The mobile growth also speaks to the audience demand for what I would call "real content" — as opposed to content created largely or exclusively for PR or SEO purposes.
The top three US digital properties are Google, Facebook and Yahoo, in that order. No surprise there. But it's interesting to observe that the "mobile only" audiences for Facebook, Yahoo, Amazon and others are larger than Google's. By the same token, Google has the larger multi-platform audience. Google also has two of the top five desktop domains and half of the top 10 mobile apps.
Finally, as might be expected, the data reflect that the bulk of digital categories are now seeing a majority of traffic coming from mobile devices.
Portals (e.g., Yahoo, AOL, MSN) still get most of their traffic from the PC. But every other category now sees more traffic from mobile devices. This finding is especially important for retail, which still needs to invest more resources, thought and effort into mobile and in turning the smartphone into the hub of the omni-channel shopping experience.