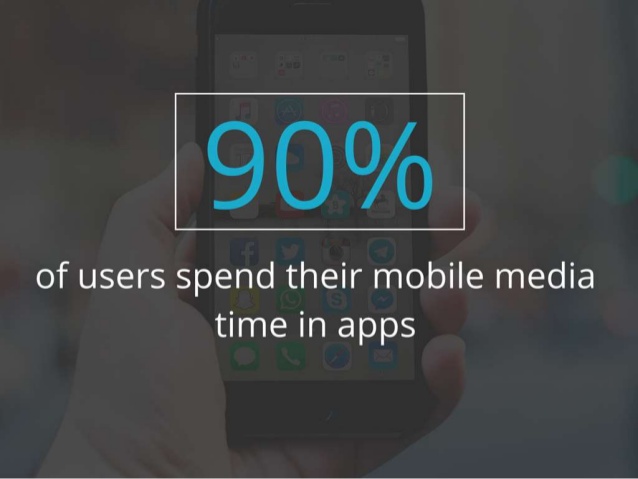 18 Sep
29 Mobile Marketing Statistics You Should Know
In order to craft an effective mobile marketing strategy, it is important to continually keep up with the ever-evolving data behind the way that consumers interact with digital media and advertising. Just a few weeks ago, venture capital firm Kleiner Perkins Caulfield Byers published their 2016 version of the Mary Meeker Internet Trends Report. The numbers contained in the report are indisputable: mobile devices are taking over the average consumer's time spent on digital media.
With this in mind, it is becoming more and more important for marketing teams everywhere to focus their efforts on mobile. At Branch, we believe that deep linking is an essential part of mobile marketing and a crucial component of effective app growth. For that reason, we've put together a list of 29 mobile marketing statistics (and a SlideShare) that every marketer should know in 2016.
Mobile Marketing
1. Within 2 years, there will be 3B+ smartphones in use. The average user spends 4-5 hours per day on mobile. (Source)
2. 59% of smartphone users expect companies to make their websites mobile-friendly. (Source)
3. Mobile will account for 50% of all digital ad spend in 2016 (worth $100B). (Source)
4. Mobile accounts for 35% of all retail eCommerce transactions. (Source)
5. 37% of purchases are made after the users viewed the retailer's site on multiple devices. (Source)
6. Of that 37%, 69% were finished on desktop. (Source)
Apps
7. 90% of users' mobile media time is spent in apps. (Source)
8. Among Top 1000 apps and mobile websites, apps have an audience 2.5x as big as mobile websites, and that audience is growing twice as fast. (Source)
9. Despite this growth, it is still much easier to build a large audience on web because of more fluid content linking. There are 3.5x as many websites with 5M+ users as there are apps with 5M+. (Source)
10. While app users are more difficult to acquire, they are much more loyal. Users spend 18X more time in-app than on mobile sites. (Source)
11. Average CPI for iOS apps is around $1.24, while Android is $0.53. (Source)
12. Google is giving away about $1B per month in app installs from organic search traffic. (Source)
13. Users spend 50% of their time in apps on their one most used app. (Source)
14. Users browse 286% more products in apps than on the mobile web. (Source)
15. Users convert to purchase 3 times more often in-app than on the mobile web. (Source)
16. 42% of "Text-me-the-app" messages lead to an install. (Source)
Mobile Email
17. 89% of marketers say email is their primary channel for lead generation. (Source)
18. 69% of emails are opened on mobile devices. (Source)
19. 39% of iPhone users spend three seconds or less reading an email (28% for Android). (Source)
Mobile Video
20. Linking to video content in an email increases CTR by 200-300%. (Source)
21. Mobile video consumption increases 100% every year . (Source)
22. It's estimated mobile video will account for 75% of total mobile data traffic by 2020. (Source)
23. 87% of online marketers use video content. (Source)
24. 48% of millennials view video solely on their mobile device. (Source)
25. Videos that are less than 15 seconds long are shared 37% more often than videos 15 to 30 seconds long. (Source)
26. 30 second in-stream mobile video ads have an 88.3% completion rate. (Source)
Mobile Deep Linking
27. Apps using deep links see user retention rates over 30 days double. (Source)
28. With deep links, apps can increase the virality of their links by up to 7.8x. (Source)
29. Using deep links, you can increase your app sessions from email by up to 65%. (Source)
It's clear that consumers are spending more and more time on mobile media, especially in apps. App customers are difficult to acquire, but are much more loyal and will spend more than mobile web visitors.
The Opportunity for Mobile Marketers
A large portion of eCommerce customers are using multiple devices to complete their purchases, making it essential to optimize cross-device browsing. A large portion of these users complete their purchase on desktop, likely because of poor user experience on the mobile website.
And with the majority of emails now opened on mobile devices, it's essential to create the best user experience for your customers. Given that the average user has an extremely short attention span, emails need to grab the attention of the reader immediately.
Along with the need to perfect the user experience and optimize emails for mobile, there are a few other areas that are being impacted by mobile:
-Video content is increasingly becoming the preferred method of content digestion for consumers, especially on mobile devices.
-The numbers show that the rise of video marketing content goes hand in hand with the mass movement towards mobile.
-The average consumer is reluctant to add a new app to their phone unless they feel that they will gain value from it.
-Deep links lead users directly to the content they were hoping to see within the app, maximizing the chance the user will see the value of the product.
How Deep Links Improve Engagement
Not only will deep links help apps grow, they will also assist in increasing the number of apps the consumer regularly uses. As was shown above, the average user concentrates their app time in just a few apps. As long as this is true, it will continue to be difficult for companies to drive widespread adoption of their apps.
Deep linking makes app content just as accessible as web content and drives app growth at a rate that is hard to ignore. With case studies showing that deep links can double user retention and engagement, the incentive for implementing deep linking technology into apps has never been higher.